Linux Backup Software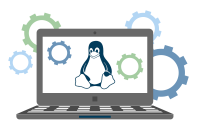 2017-02-09

The newest version of Handy Backup now has a native compatibility with OS Linux. Latest releases of Handy Backup can run a Linux backup server via the two Linux-based software components, Handy Backup Server and Workstation. The third component containing the graphical user interface (GUI) and called Handy Backup Client, is still a Windows-based solution, completely compatible with the standard Linux Wine emulator.
This technique allows keeping uniformity for all interface components, making the job more comfortable for a user switching between Linux and Windows, especially in heterogeneous infrastructures.
What It Can Do?
The new Linux version has all the functions and options of traditional Handy Backup 7 for Windows, using the Linux kernel without emulation for running tasks. A user can set up Handy Backup locally on Linux machine, or distribute its components in a plain or heterogeneous network.
Controlling Options
Handy Backup provides three methods of controlling for Linux-based tasks: a local terminal using the command-line interface, a remote Management Panel located on some Windows machine connected by network, or a GUI installed locally under the Wine emulator. These methods require a minimal amount of setup before starting.
Proof-testing and Configuring
As Linux backup software, Handy Backup completes a proof test under Ubuntu 14.04, making it fully compatible with freshest versions of Ubuntu and, when possible, with many other Debian-based solutions like Linux Mint. There is the special repository for installing and auto updating the main Handy Backup components via the standard apt package manager.
Adding Other Distros
If you want to add any other distributive to the list of proof-tested Linux solutions, please contact us via the support email (support@handybackup.net) and tell us about your needs and wants. Potentially, Handy Backup has a kernel-level compatibility with any modern Linux version, which allows running it on any current Linux-based system that meets basic requirements.